X The event is rescheduled due to COVID-19 X
xxxxxxxxxxx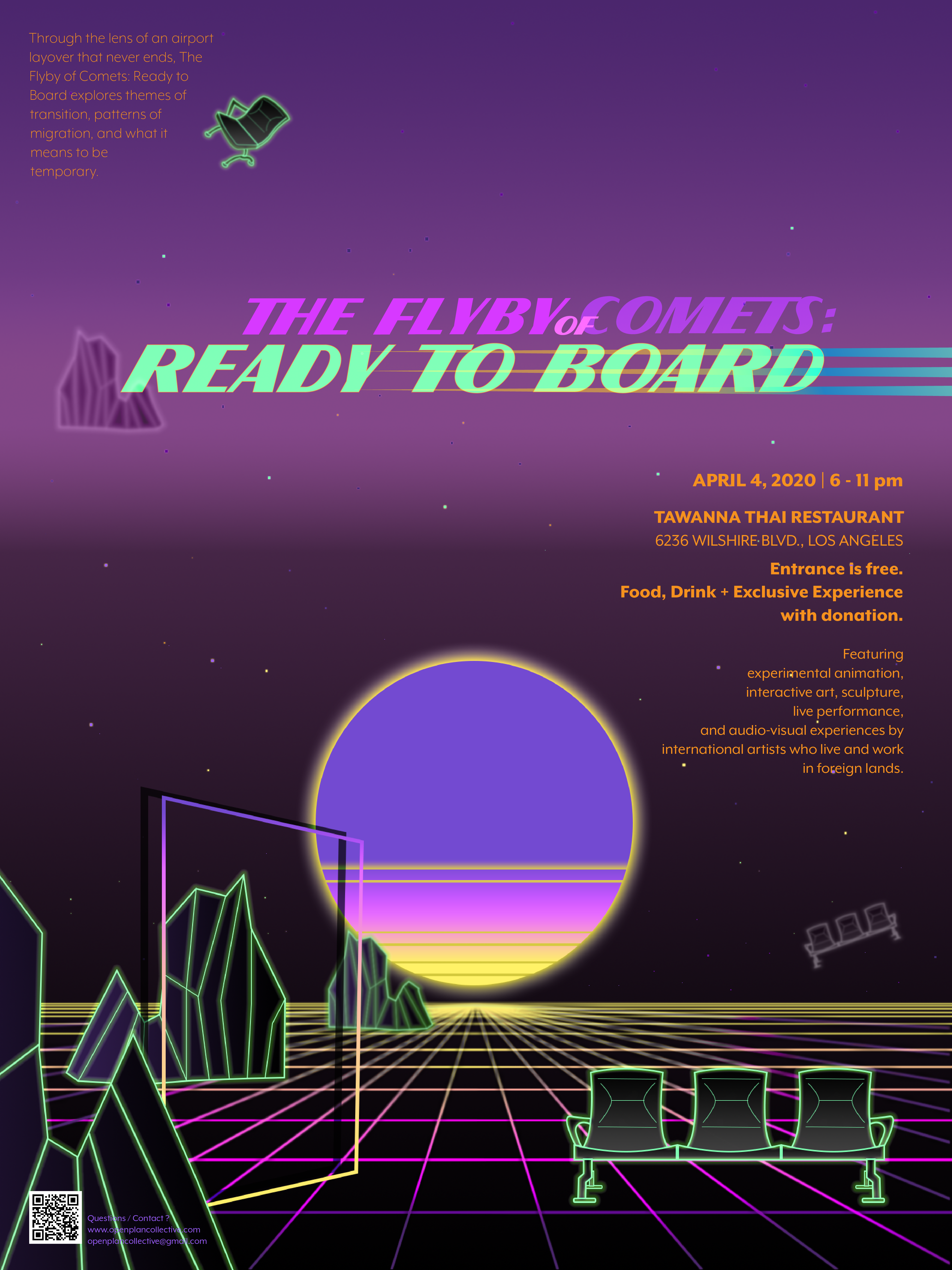 The Flyby of Comets:

Ready to Board


The Flyby of Comets is a one-night-only art experience featuring the work of international artists living and working far away or disconnected from the places they called home.

Through the lens of an airport layover that never ends, The Flyby of Comets: Ready to Board explores themes of transition, patterns of migration, and what it means to be temporary. Ultimately, this live-performance and site-specific art installation is an exploration of the struggle and hope for a chosen and secure future.

Featuring experimental animation, interactive art, sculpture, live performance, and audio-visual experiences.

We welcome all visitors, travelers, and stowaways at our airport terminal named Tawanna Thai, located at 6236 Wilshire Blvd, Los Angeles. This 'layover' starts from 6 till 11 pm on Saturday, April 4, 2020.

CHECK-IN:

Registering a boarding pass online can be easily done by emailing openplancollective@gmail.com with the names of your guests or in-person at our kiosks at the entrance.


Space is limited.

All passengers are required to check-in prior to terminal entry.

Entrance is free. Food, Drink + Exclusive Experience with Donation.
With a sliding scale donation of $10-25, receives a free drink, entree, dessert, and entrance to our Business-Class cabin performance.
(Venmo: @openplancollective or cash at the front gate).


BACKGROUND:


The Flyby of Comets is a series of exhibitions produced by a group of International Asian creative professions who live & work in many countries. The first show of this series was exhibited at The 4th Floor Studios, Brooklyn in June-July 2019. On April 4, the second exhibition of The Flyby of Comets is being organized and curated by members of Open Plan Collective.


---

FACEBOOK: https://www.facebook.com/events/170675900883310


---

ARTISTS:

Dahn Gim -- dahngim.com

Gongkan -- gongkanstudio.com

Jane E Kim -- janeekim.com

Kengchakaj Kengkarnka -- kengchakaj.info

Thepnara Kongsawang -- kongsawangthepnara.book@gmail.com

Tuang T -- tuangstudio.com

Samith Taengon -- behance.net/gunboy27

Sirasith Visual -- Instagram @sirasith_visual

Sutthamon Worapong -- sutthamon.w@gmail.com


*More artists will be announced soon.*

---
TERMINAL'S DIVISIONS:

Registering Kiosk, Check-in
Tuang T (Tuangkamol Thongborisute,) "i n u r numbers," Digital Interactive Art, 2020



Luggage Transportation Service


Samith Teangon, "The Gap Loop," Projection-Mapping, Loop Animation, 2019

Environmental and Air Quality Control
Gongkan ( Kantapon Merheekul,) "where we go?," Installation, Sticker on Mirror, 2020

Terminal Lounge
Sutthamon Worapong, "A Very Good Service Girl," Live performance, 2020
Schedule: 45mins/ round

Round 1: 6.15-7 pm

Round 2: 7.15-8 pm

Round 3: 8.15-9 pm

Round 4: 9.15-10 pm


Lost & Found
Thepnara Kongsawang, "Palm Trees and Sun and Moon," Found Objects, Live performance, and moving images, 2020
Live-performance scheduled at 10.15 - 11 pm

The Boarding Tunnel
Kengchakaj (Kengchakaj Kengkarnka), "Lak Lan," audio recording playlist
Visual and installation designed by Sirasith Visual

*More artworks will be announced soon.*